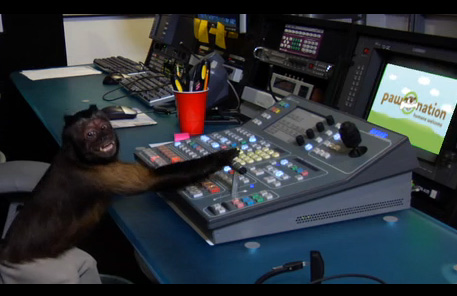 Lisa from Petsblogs won't let her kids have a pet monkey.  Not even after watching Night at the Museum: Battle of the Smithsonian back in December, when they started bombarding her with requests for one. 
It was all because of Crystal, the Capuchin money who played Dexter in the first edition of the movie back in 2006 and was back for the sequel this year. 
Having one as a pet was a no-no.  But it was all for good reason.  Lisa and her kids learned all about Crystal and Capuchins when they did some research after watching the movie.  
We don't have the time, the space, or the resources, she wrote in a post where she described the situation.  And here's what else
Capuchins live pretty and it's likely to be at least a 30-year commitment (that means you must know that if you start taking care of one now, you may as well be taking care of one 30 years later!)
Crystal, the Capuchin monkey in the movie, is a 15 ½ year old who lives with her handler and trainer.  He's had her since she was 3. 
He gives her a bath every single day.
The trainer himself wouldn't recommend owning a Capuchin monkey because they're very high-maintenance, possessive, and can be aggressive. They're also messy and destructive.
Capuchins are not very clean animals. In the wild, they're likely to wash their hands and feet with their urine!
The trainer sent more time with Crystal then the average person has time to spend on a pet. 
Crystal's favorite food is yogurt, but she eats at least 5 different fruits and 5 different veggies every day.  She also loves nuts and seeds, pistachios, and walnut shells. 
Crystal doesn't even like to be hugged! 
Still thinking you'd like a pet monkey? I'm certainly not! But it was really fun to read this post and learn all about Crystal and Capuchins! And I didn't even reveal all.  For more on Crystal, Capuchin monkeys, and Lisa's movie project, read the rest of the post here...
Don't forget to catch Crystal in Night at the Museum Battle of the Smithsonian and next fall's The Zookeeper.