A field trip for a Degu?
---
After having to take Imaña to the vet 3 times so far (for teeth treatments and re-checks) I noticed she is really enjoying going to the office. The first time we went she was scared, but now she is very curious while we're there, and likes to be out, about and exploring in the office. She even enjoys visiting with the girls at the reception desk, the vet tech, and whoever else is in the waiting room waiting.

I regularly take my dog into the PetSmart here, just for him to socialize. And I've thought, since she seems to enjoy her outings to the vet so much, when the cold winter weather is gone, I might start taking Imaña there for outings too. I imagine she might be scared the first time, but after that she'd probably really enjoy it.

I just wondered if anyone else takes their Degus on field trips like that, and if there are any reasons I'd want to avoid doing it, or if it would be dangerous or bad for her. Any thoughts or opinions?
---

Comfort if you've lost a pet, or are facing a loss
I used to take my goo's on holiday with me and they loved it and knew when we were going and used to get excited too
This was back when i only had a pair, i wouldn't like to take 10 cages away now in the tent
Every degus different some prefer to be at home and others with you. If Imana is safe and enjoys it why not
---
Kirsty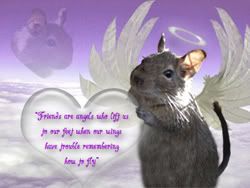 Visit Degu Rock - Dedicated to Degu Care & Welfare Worldwide

Currently Active Users Viewing This Thread: 1

(0 members and 1 guests)
Posting Rules

You may not post new threads

You may not post replies

You may not post attachments

You may not edit your posts

---

HTML code is Off

---