Chuckit by Canine Hardware
---
Just wondering if anyone else has the Chuckit toy by Canine Hardware for their dog? I have it and think it is the best activity toy out there... My guys Gunner & Ed will chase/fetch a tennis ball until they die, but the ball always gets all gross and slimy after a few throws..YUCK! This toy lets you throw the ball really far and then you can pick it up off the ground so you don't have to touch it. It is about $10.00 at petsmart... I think it is well worth the money. This is a link to the product description and a picture:
http://www.chuckit.com/products/ultr...ltraballs.html
If you have the chuckit toy and have played it with your dog I would be interested to know what you think of it.
---
~Ignorance can be cured with education~
Mom to:
A little girl (6) and a little boy (4), and 2 dogs
Leo and
Gunner
Proud Coastie Sister!!
My brother is in Virginia at FT school !!
RIP Ed
October 2000-November 2007
I absolutely love the chuckit!! I recommend it for all my clients particularly those with retrieving breeds. With many Golden Retrievers in our household we have several of them laying around and it's a real slime saver!
---
Kara L. VanDenBerg
Lake Effect Pet Training
http://www.lakeeffectpets.com
Free dog training tips, cat training tips, articles, breed information, and various pet information by a professional animal behaviorist. We have many items available to purchase to benefit rescue.
Registered User
Join Date: Aug 2009
Location: Oklahoma
Posts: 5
Yeah, it is great. My GSD will fetch all day long. It helps me throw farther and for a longer amount of time. My dog will go put her ball in the pool so not having to pick it up with my hands is great. The balls that come with it last a lot longer than other tennis balls too. I bought some "tough" balls and my GSD tore them up in a day.

Belinda and Rusti Ann
my two dogs do not like balls. so it was a flop here! they dogs at the dog park love it
---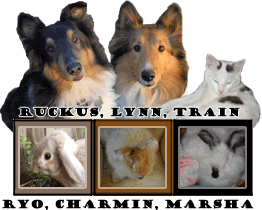 Registered User
Join Date: Oct 2009
Posts: 1
Quote:
my two dogs do not like balls. so it was a flop here! they dogs at the dog park love it
I am glad to find your site - now I know what a good one looks like.
Very good topic to share with us. Great info.
Currently Active Users Viewing This Thread: 1

(0 members and 1 guests)
Posting Rules

You may not post new threads

You may not post replies

You may not post attachments

You may not edit your posts

---

HTML code is Off

---