Mojo?
---
Hey, Glidertales - what's the latest on your little Mojo? My Mojo (the senegal) and Frosty only got one feeding today because I couldn't get out of bed..........Frosty has stopped doing that baby crying thing so much as she just kind of whines.

Hope everything is getting straightened out soon at your house. How many fids do you have total?
__________________
CRITTERCALL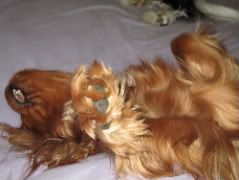 "If they care, it doesn't matter; if it matters, they don't care."