Taking Flight
---
My little green bird suddenly decided he was a big boy today and flew - around the kitchen, through the opening to the living room, around the living room and landed behind a chair. Thank goodness the dogs weren't at home!

I had Frosty's wings clipped earlier this week - looks like this guy will go tomorrow and have his done! He is such a character. Loves to nip on your hands and fingers if you are holding him and has finally started to chatter. Erin said it sounded like static over the phone.
__________________
CRITTERCALL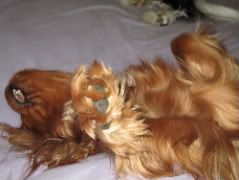 "If they care, it doesn't matter; if it matters, they don't care."