Anyone know about how long guppies are meant to live? Or how long have you had yours? One of my males died sometimes last night, Its kinda sad, cuz he was part of my first trio of males, and i was hoping to maybe breed them to some of our new babies, when there old enough of course.. but i was thinking the other day my males might be a bit old.. then the last few days Ive noticed Spaz (he always freaked out more than the other two) laying on the bottom a bit more, hes always kinda done that, but usually only when i turn the lights out for the night.. so i turned the light off a little early last night and this morning well.. But yeah, i cant say i wasn't halfway prepared for it. Anyway, heres a pic of him when we first got him..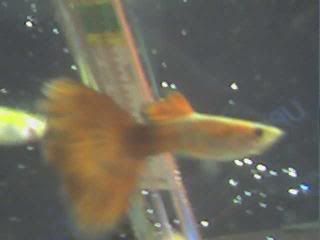 and him followed by the other 2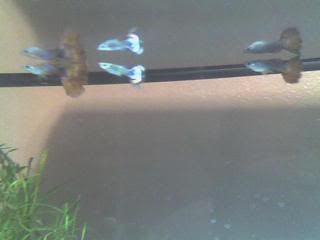 Looking at those pictures, i can tell how much there tails have grown since we first got them, kinda cool. I love guppies so much, All our babies are getting there colors now, its amazing how much they've changed, from the little Grey things that could blend in with anything.
And After putting the 7 females in the 29gallon tank they actually swim and play together alot more. There was an Ad on the radio this morning for someone selling a 100gallon tank for $200. Oh so tempting.. and we actually sorta have the money for it.. but heh its still expensive.. David says if i want it.. oh i soo hate it when he does that.. cuz if we get it I'll end up feeling guilty about it later, Bleh
I'm rambling now so I'll stop now