Playful Pup
Join Date: May 2004
Posts: 55
live cats and dogs being used as bait.
---
---
"We can solve well over 90% of the all chronic diseases with simple, inexpensive natural therapies." Dr. J. Mercola
I signed.. I mean't to do it a few weeks ago after seeing it in my newspaper.. It is so cruel..
---
Steph ~ Owned by 4 bunnies and 5 degus..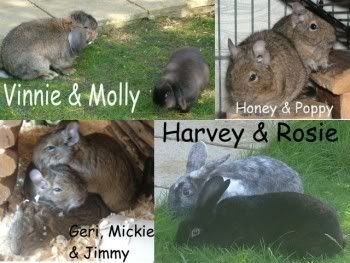 "The love for all living creatures is the most noble
attribute of man." Charles Darwin


OMG...That is so awful. That picture of that poor dog made my heart drop. I signed it, even though Im in the U.S. Surely a stop will be put to this awful practice. I mean, common people.
---
Because I was born in the South, I'm a Southerner. If I had been born in the North, the West or the Central Plains, I would be just a human being.
Clyde Edgerton
Why can't we use the idiots doing that for bait? Get them out of the gene pool!
---
Jenny, Zookeeper Extraordinare
Mom to:
Pooters, Gracie, Mr. Muggles McLovin It (all three Chi mixes), Angel (Lab mix), and Nina (Sheltie mix)
: Hollands: Peneloppy, Sunkist, Scooby, Toby, Timothy, and Dante; Jersey Wooly: Dini and Dana; Lionheads: Cricket, Tinsel, Missy, Mrs. Jingles, Winnie; Netherlands: Quasar, Amos, and Shutterbug; Havana mix: Colby; Fuzzy Holland Lop: Henry; Velveteen Lops: Prudence and Jude AKA Tigger
Fernando
Benny
Maverick (Bearded Dragon) and Panda (Leopard Gecko)
Lionel (Ball Python) and Arrow (Cornsnake)
Falcon, Sherbert, Razzle and Pearl (All Bettas)
RIP Arthur
Resident Aquarium Nerd
Join Date: Apr 2004
Location: Murfreesboro, TN
Age: 26
Posts: 9,930
I thought I posted o_o. Hmm.
Anyway, that's awful
. I signed, though I'm in the U.S.
---
~Stephanie

"We weep for a bird's cry, but not for a fish's blood. Blessed are those with a voice."
---
that is crazy i can't belive someone would do something that curl
oh my gosh! That poor precious dog!!! How could ANYONE in their right mind do that?!?!
---
Kristina,
my three sugar gliders:
Meka, Mac, and Sasha
Sorry I'm a bit behind, I haven't been online because of Hurricane Wilma (just got power a day ago) and was never able to sign the petition b/c it's closed now. Why were they using dogs and cats?! What's wrong with using fish. And what were they trying to do with the sharks anyway?
---
Kristina,
my three sugar gliders:
Meka, Mac, and Sasha
Currently Active Users Viewing This Thread: 1

(0 members and 1 guests)
Posting Rules

You may not post new threads

You may not post replies

You may not post attachments

You may not edit your posts

---

HTML code is Off

---