Join Date: Aug 2007
Posts: 5
My Story
---
Hi everybody. First of all, to me, this is a tear jerker...so be warned. But to me, it is also a story for Chicken Soup for the Cat Lover's Soul. So with that, ill get started.
I was 5 at the time. The time where everything didn't suit me. I wanted everything. One day, my great aunt came from charollette, saying that she had a suprise for me and my sister. I thought it was a action figure, or a movie, or one of those other goodies that she always brought. But i never thought that when she opened her car door, a cat would jump out. He was a golden tabby named sunshine. 20 pounds i belive. I was so happy. I had never had a living pet before. She said that it was a 7 year old stray, and it needed a good home. We took it. He was the best pet. We let him in the house, and he would just love us all to death. I think he was attached to my sister the most, but he did love us all alot. We had him for seven years. Then, me and my family went to the beach, leaving him in my grandfather's care. We called every day to check on him. And every day he was fine. We came back on sunday. And when we called for him, he would not come. We thought that he was out hunting, so we didn't have any concern. But when i came home from school the next day, and he wasn't there, i got worried. But you can't do anything while you wait for a cat to come. So, i walked around the yard just to pass the time. And when i went into my back yard, i saw him. At first, i thought he was just playing dead. But another look closer showed me that he was dead. He had been attacked, and slashed into 3 pieces. Flies and maggots had already got ahold of him. It was so sad. After many hours of tears, i finally got a grip on reality. The next day at school was ****. I couldn't get it together. It was so bad that no matter how much i held it in, a tear always seemed to escape. Then the next few days got better. But i needed someone to be there with me. So one of my mom's freinds had a pair of cats, one a tabby, and one a black one. We took them. We put them in a crappy cage in the back of the truck. It was the best we had. And there seemed to be a hole in the cage. And by the time we got back into the city, the tabby (called cream), found it. And he crawled out and jumped out onto the highway. I thought we was dead. We raced back and looked for him. He had survived, and managed to run to the Huddle House. I was relived. But then, 2 weeks later, a sharp part of the same crappy cage popped out. And cream once again seemed to find it. But the problem was that the sharp part got under his collar. He choked himself to death. And my reaction was not like my other cat. But it hurt. Probably because that was the 2nd death in 3 weeks. But once again i had to get over it. But the black one was just so sad and lonely. So we decided to get a new one. And not before long, we found one identacil (cant spell) to sunshine. We got him instantly. But when we got home, the black cat was gone. And black fur was on the ground. It didn't look good. But not a tear was shed, for some odd reason. And oh my gosh, how i loved our new cat. The vet called him Feastus, which means greek god. And we kept it that way. And he was indeed a greek god. He looked like one of them on the Lion King. Here is a pic:
So anyways... me and him were the best of freinds. Me and him were brothers. And to tell you the truth, i can't tell you what our relationship was like because it was so great. But anyways, we always kept him in the house. And we tried to keep him from going out. Because of what happened to Sunshine. Then one morning, after him sleeping with me beside my bed, he wanted to go to his litter box, but my dad let him outside instead. *Still anger towards him for doing that* i woke up with shreicking in my ears. A coyette (cant spell) was out there. But i didn't know feastus was out there too. When i realized that feastus was out there too, i got up and started looking for him. The flashlight showed something golden in the distance. I knew it was him. I ran towards him. He looked fine. But he was crying terribly. So i picked him up, and took him towards my house. I looked around him seeing if anything was wrong. And it seemed that he was so scared that he had pooped. I laid him on my mat on the front door. And i thought he was just playing dead. And he cried, and cried and cried. And then, it stopped. His scared eyes were still wide open. And i bawled. And i knew that if i was to respect him, and our relationship, i had to say goodbye. I put my head against his, and wispered, "I love you Feastus". I didn't go to school that day because i was so heart broken. And my grandma didn't help because after we burried him, she said, "Well are you sure he was dead when you buried him" i flew off the handle. But then, my grandpa told me of his stray cat called muff, saying that we could have him. Since i was missing a comfort of a cat, i agreed. He was so friendly. But when he decided to lay in the spot that feastus used to, i flew off the handle and threw him out the house... saying that i didn't want him to take feastus's place. But i let him back in, but he still wanted to lay there. I soon gave up saying that it was no use. And eventually, i grew on him. And now, me and him are the best of freinds. And like feastus, he is my brother. And now he sleeps with me. Here is a pic: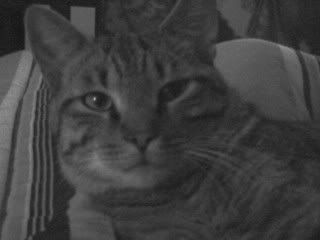 So all in all, i have been emotianally hurt by my love for cats. But now, i know that i have muff to help me. I hope this story has moved you as much as it has moved me.
Join Date: Jul 2007
Posts: 50
I'm so sorry for what happened. I don't know what else to say. I hope if you ever do adopt another cat she lives a long and happy life
Currently Active Users Viewing This Thread: 1

(0 members and 1 guests)
Posting Rules

You may not post new threads

You may not post replies

You may not post attachments

You may not edit your posts

---

HTML code is Off

---