Aki Feb. 2007 to March 14, 2009
---
Aki is the little Russian blue berk I got from the TAS with her sister Lani who sadly passed Aug. 29 2008 from PT. This shelter was notorious for having rats pts for things like mites, etc…so when I saw the girls I ran to get them just in case. Aki spent most of her time biting and not trusting me. After her sister left us she changed her mind and her nips became licks. She was a lovely girl once she learned to trust.
Lani popped up about 5 tumours just before she died, so when Aki got one, I left it alone thinking there would be many more on the way. Her armpit tumour stayed small for a long long time, until suddenly it grew and fast.
Her health was awesome, never been sick, no more lumpies, so at 2 years of age I decided that the tumour had to be removed. I was expecting to give her a few months without her "sidecar" but sadly fate had other plans. A week after the surgery, she developed PT symptoms…sigh. The kind that do not respond to the steroid therapy like it's a miracle cure.
After I found that her cagemates weren't really comforting her I popped her in with my extremely healthy 3-year-old Valora, who quickly figured out she's a good nursemaid. Aki was doing very well for about a week, and then slipped quickly downhill last night. Tonight she quietly left the world cuddled up on my neck.
She, Bronwen and Tucker were inseparable, so I am not surprised they all left within 1 ½ weeks of each other. They are now together again.
When she was just Blue Girl
Aki rests her head
Aki approves of her FN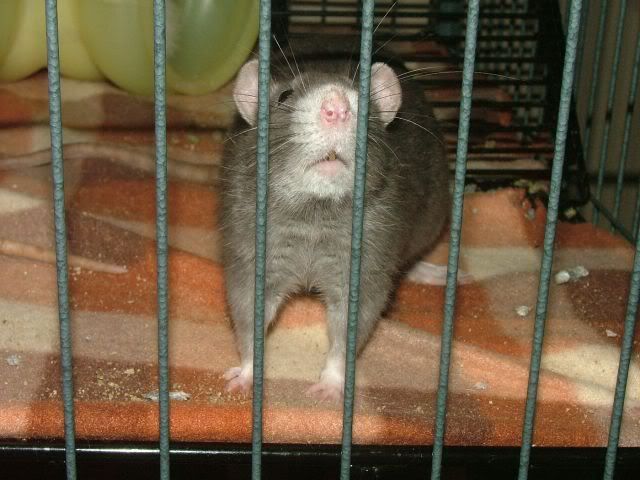 She was such a pretty and content girl. And don't Russian blues look just fabulous on green
She became a serious licker
My beautiful cuddlebug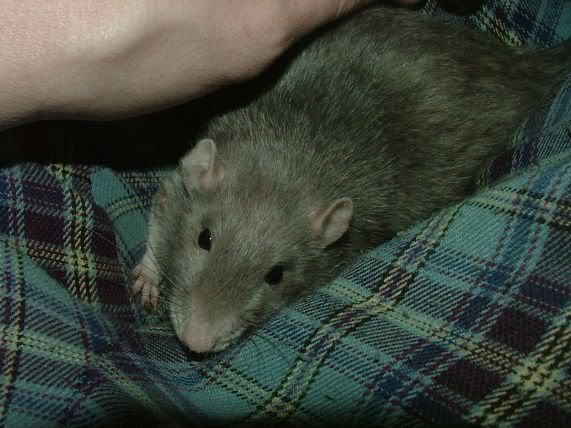 Her poor incision never got to heal, but boy did she love Mom feeding her Ensure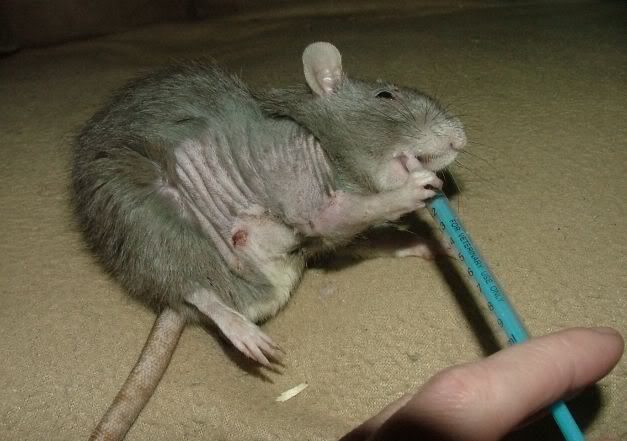 Bronny, Aki and Tucker...reunited.
---
To the world you are only one person, to your rat you are the World
- anonymous -

The Rat Shack

To view links or images in signatures your post count must be 10 or greater. You currently have 0 posts.

Aww RIP Aki xxx
---
*Carla*
I
To view links or images in signatures your post count must be 10 or greater. You currently have 0 posts.
my animals!
Currently Active Users Viewing This Thread: 1

(0 members and 1 guests)
Posting Rules

You may not post new threads

You may not post replies

You may not post attachments

You may not edit your posts

---

HTML code is Off

---