Help! Rescue rat needs help!(pics included)
---
Okay let me preface this by saying yes I know it was stupid! My husband and I go to this little mom and pop pet store to get supplies sometimes. The last few times we've been in there they've had this hairless rat that we've talked to. He's pretty cute. Last night we were there and I made the comment that I was surprised he was still there because he's the only odd or unique rat they have. Then the owner said that no one wants him because he has this lump on his stomach. Sure enough I pull him out and look at him and there's a pretty big lump where you would expect a belly button. It's soft and you can manipulate it without bothering him at all. The shop owner said it's a navel hernia and it doesn't effect his health and shouldn't require surgery (don't really think she knows what she's talking about.) She also said that they were going to just sell him as a feeder if no one would take him. Yes I know I'm a big retarded sucker!!! But it worked. I took him home. I just couldn't let them feed him to anything.
So anyway he eats, he poops, he pees, he runs and plays. Every time we've seen him in the store his eyes and nose have been clear. He doesn't bite or exhibit any other kind of pain behavior. Occassionally he'll sniff something really closely and when he's done he'll make kind of a snuffing or sneazing sound but other than that no sneazing or wheezing that we've noticed. He is a little nervous when handled. This morning I looked in his cage, normal clear eyes and nose. Then I took him out for a snuggle and when I put him back he had porphyrin around both eyes that had not been there a few minutes before. Is this stress or is he sick? Should I just leave him alone for a couple of days? Is there something else I could be doing for him between now and when we get into the vet? If he does have a hernia will he definitely need surgery? Will he even survive surgery? How much will it probably cost.
I'm going to make him a vet appointment today, but I'd like to have some idea of what I'm in for before I take him in.
I'm including pics, sorry they're crumby cell phone pics.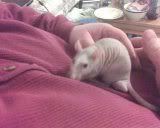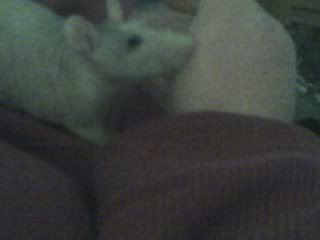 http://i89.photobucket.com/albums/k2...isgrooming.jpg
Currently Active Users Viewing This Thread: 1

(0 members and 1 guests)
Posting Rules

You may not post new threads

You may not post replies

You may not post attachments

You may not edit your posts

---

HTML code is Off

---