Ria's Cagemates, the Omega Mu's
---
A member of another forum had run into a bad situation, heavily pregnant, always sick and to top it off her husband was leaving her before the birth.
She needed to rehome rats fast, so I told her I would take oldies and trouble rats (the ones harder to adopt).
I was supposed to get Bridgette, supposedly 4 years old, and was warned she had a URI.
Hayla – recently weaned a litter, from an oopsie she had had.
Misty – the sweet healthy one of the bunch
– black hoodie with a very very sad background. She was with another owner, who cut her and her cagemate's tails in half with scissors, then wanted to dump her and her friend and her 4 babies at the side of the highway. So the woman took them in, still bleeding from their stumps. She said they were biters and she had to handle them with oven mitts.
The cagemate was the other girl, another biter.
After a week delay (*cry* what if?) I got my girls on Sunday…
Bridgette had a URI, but she also had lice, scabs and was thin (they all were infested and scabby). The supposedly good owner obviously didn't "do vet" and was feeding them cheerios. She wasn't 4 years old, more like 2-2.5 years of age.
Hayla –chubby but has a bony feel to her from her prior litter but she also has a tumor on her neck. :-\
Misty –
was
sweet, but very sick when she arrived, you could tell this was an illness that had been going on for a very very long time. Misty was renamed Ria, and died last night even with treatment. RIP sweet one :'(
The hoodie was renamed Anthea "to blossom", and this tiny adorable little girl is just terrified, she doesn't bite, hasn't even nipped me!
Her friend was renamed Ligeia – and she IS ready to make me BLEED. She radiates anger, and is indiscriminate between good and bad humans. She is a stasher, and they are all heavily food-oriented in a manner that makes me think food was forgotten occasionally.
I also just found out that another girl taken from this woman also died last night.
The girls are Home now, and everyone except for Ligeia will let me handle/hold them somewhat. Poor Anthea cries pitifully until she realizes I am not hurting her. But Ligeia is the Defender of her colony so I am respectful of her space
and
her teeth.
Meet the new ladies…I think I shall call them the Omega Mu's
Bridgette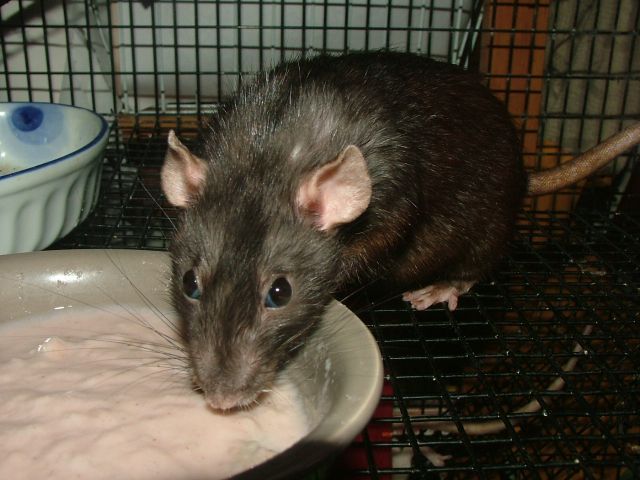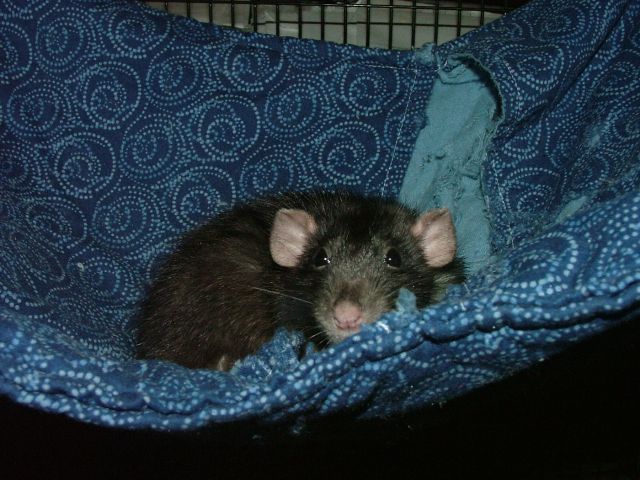 Hayla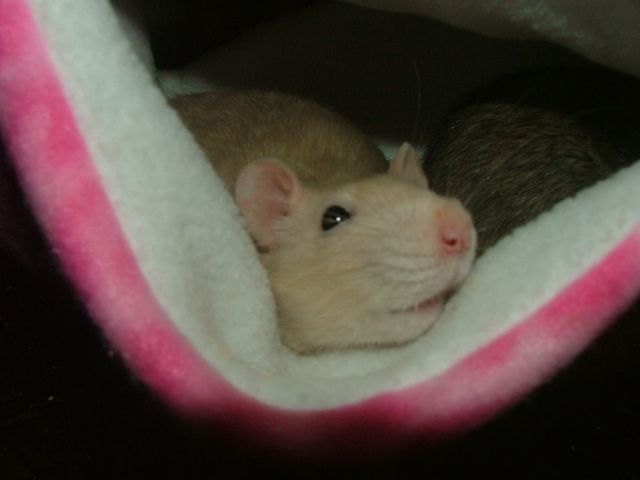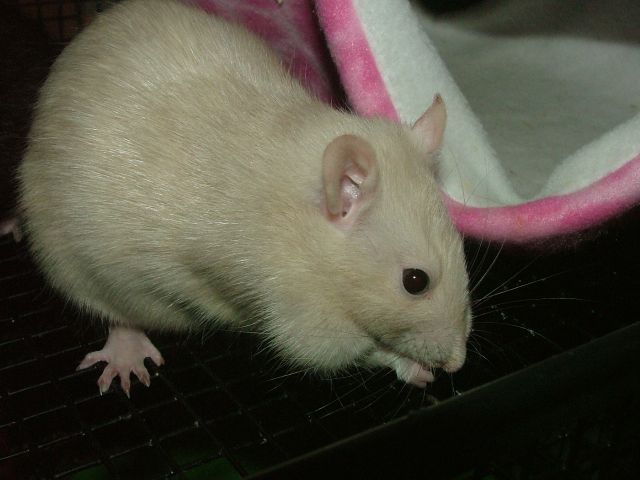 Anthea
her poor little tail
Ligeia, my Challenge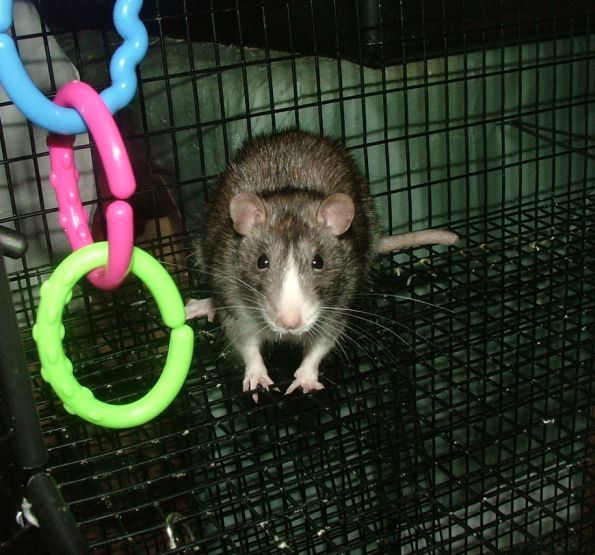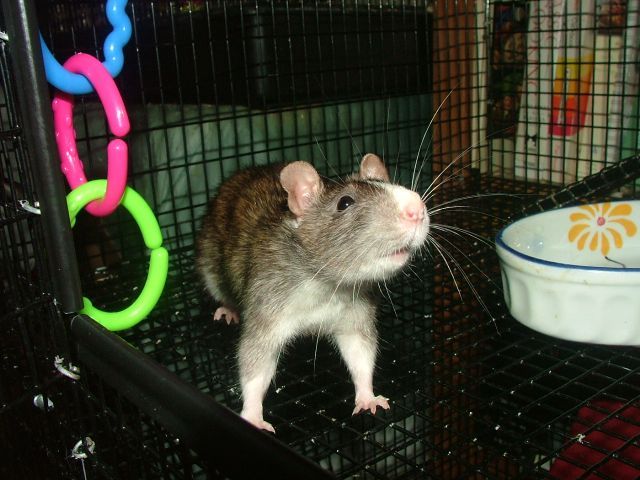 The Omega Mu's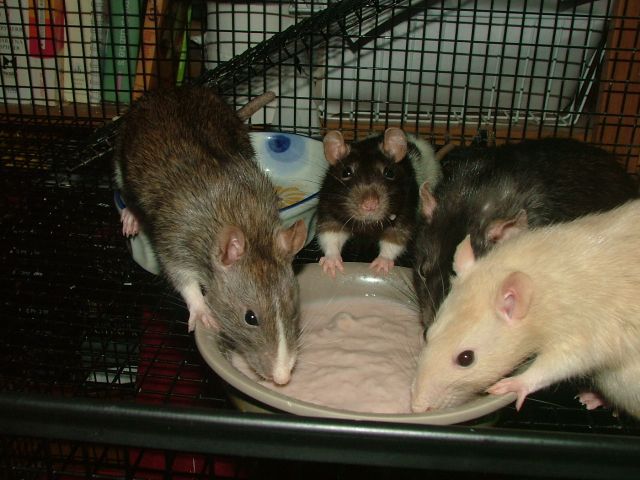 ---
To the world you are only one person, to your rat you are the World
- anonymous -

The Rat Shack

To view links or images in signatures your post count must be 10 or greater. You currently have 0 posts.

Paw-Talk Addict
Join Date: Jul 2009
Posts: 1,761
Hayla and Liegia are sooo beautiful! they're all cute, but you know, I have my faves
This is so sad lilspaz and I'm so glad they found you!
that poor little tail
I think your heart is big enough for 3 people, and I really have to say thank you for being so brave and doing this and dealing with people like that.
I would love to do the same thing, but my boyfriend doesn't have 1 whole heart in him big enough to love people and animals just as much...
Currently Active Users Viewing This Thread: 1

(0 members and 1 guests)
Posting Rules

You may not post new threads

You may not post replies

You may not post attachments

You may not edit your posts

---

HTML code is Off

---