Super Moderator
Join Date: Mar 2007
Posts: 4,212
My bunny bonding experience
---
So I figured I would share my experience bonding Zeus and Barnaby - although I'm afraid it won't help anyone because it was unusually easy for me!
When Barnaby first got here he was in a seperate cage from Zeus, but they were right next to each other. They would rub noses through the cage bars and smell each other but that's about it. Everyday I switched cages so they were in each other's cages.
After a few days of that I finally let them both out to see what would happen. Zeus completly ignored Barnaby. Poor Barnaby tried following Zeus around asking to be groomed but Zeus just ran off and did his own thing. So I would sit with Barnaby and keep him company and eventually Zeus got curous and came over to ask for pets. So I would pet both of them, and then they started grooming each other. They slowly started spending more time together, grooming and cuddling. There was some mounting but not much at all, and no fights (thankfully!).
Once I was pretty sure that they wouldn't fight, I started keeping them in the same cage during the day when I could watch them but seperating them at night. After a few days of that, once I knew they were fine together in the same cage, I started leaving them together all the time.
So after about only 2 weeks, they are already buddies. They cuddle and share everything in the cage. They don't always stay together at play time, they each like to go off and do their own thing, but sometimes they do.
Barnaby is still shy and a bit timid. I don't know if he didn't get out of his cage before or what, but he really doesn't seem to know how to act like a bunny - poor guy. Zeus is teaching him how to play and explore though. He seems so much less nervous with Zeus around to reassure him. And I saw him binky for the first time the other day!!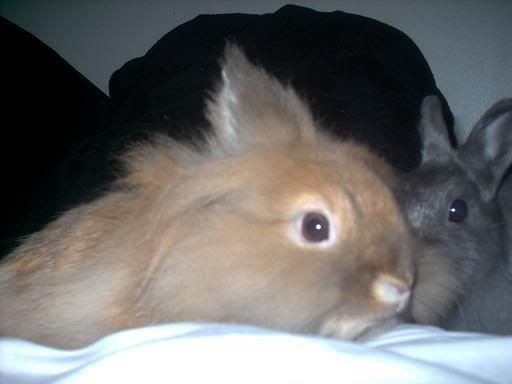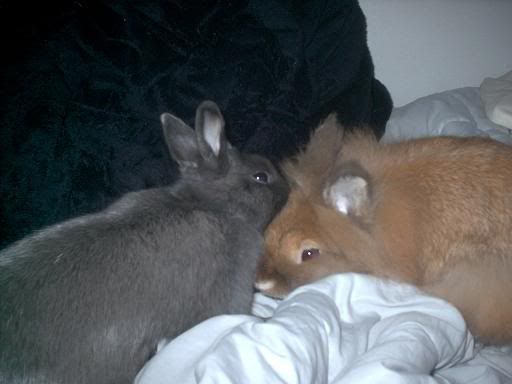 ---
To view links or images in signatures your post count must be 10 or greater. You currently have 0 posts.
they are sooooooooooooo cute. I was lucky when I put my bunnies together too. They bonded very quickly and because they were both little black bunnies sometimes it was hard to tell there were two in the cage they were always cuddled next to each other. When she died he sat next to her and sniffed her to say goodbye before I took her out. I had to watch him for several days to make sure he didn't get overly depressed.
Currently Active Users Viewing This Thread: 1

(0 members and 1 guests)
Posting Rules

You may not post new threads

You may not post replies

You may not post attachments

You may not edit your posts

---

HTML code is Off

---