Join Date: Mar 2004
Posts: 4,887
I couldn't agree with both of you more...shoot, by the size indication alone though, Orion would be high risk and Kali would be at risk
Neither of them even growl at strangers
Join Date: Dec 2004
Posts: 213
Dont' agree with size =risk either.
I'm going to have to start looking soon here. Our last insurance co. quit writing period.. nothing to do with the dogs. At the time we signed with them, though, we only had 3 Lab/Rotts..that look like Labs.
Now we have Stitch: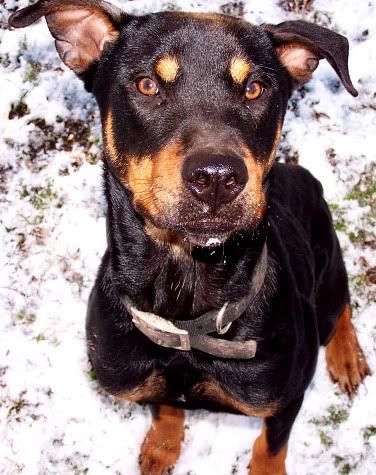 NO confusing him with anything else.. Last year when I had called around, every place but 1 had a Black List..and banned breeds, NOT deeds. It's insane. Don't know what happened to "Land of the Free".. the most aggressive dog I've owned was a Lab/Border Collie cross. It just doesn't do any good to try and pinpoint certain breeds as dangerous.
Tags
border collie, bull terrier, dwarf hamster, german shepherd, german shepherds, national breed club, pit bull, pit bull terrier, pit bulls, shepherd mix, staffordshire bull terrier
Currently Active Users Viewing This Thread: 1

(0 members and 1 guests)
Posting Rules

You may not post new threads

You may not post replies

You may not post attachments

You may not edit your posts

---

HTML code is Off

---