Discussion Starter
·
#1
·
Well, these are for everyone here, but Claire specifically asked me for some pictures of my little girls and I have taken forever and a day to get them out to her! So, Claire, hun, these are for you!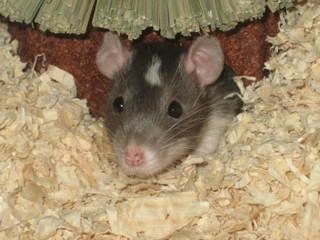 This is Mousie-Mousie, also known as (Greedie Gretta!) LOL
And this little sweetheart doesn't really have a name yet. I just love her to pieces. She is a little doll.
Me first!
I just love them both so much. I know that their cage looks small, but it really isn't. It is the largest aquarium that I can get them. This summer when I have more money saved, I am going to upgrade it. Plus, right now, they are safe from my kitties. That's so important. But they really have so much room. The pictures just look so small here. Luvs ya! Charlene