Corn Snake Tank Set-Up
*none of this guide is to be stolen or used elsewhere with out my permission*
The corn snake tank set-up
Corn snake tanks or vivarium is where your snake will spend most if not all of its time (excluding feeding and handling). Vivariums consist of several parts: the tank, heating, bedding and décor.
If this is your first snake it is wise to purchase all the necessary materials before bringing your new snake home.
(Set-ups like this can cost alot, as well as the care of a new pet please be sure a snake is right for you before bringing one home)
You will need the following:
-a tank and cover
-heat pad
-bedding
-décor
Optional materials can include:
-heat light
-small glass cutting bored or something along those lines
Etc...
The tank:
The tank is the most important piece of creating your vivarium. The tank should be at least half the length of your snake. The bigger the better is not always true, in less many hides are provided and care in taken into the stress level of the animal. Corn snake in the wild do not spend much time out in the open, as they prefer to move around in covered areas out of the open. Then placing your tank in the room, be sure the stand with be able to hold the weight, these tanks can get heavy. Do not place the tank in direct sunlight or in drafts.
(To test your drafts light a match and hold it where you are planning to place your tank if it flickers there's a draft.)
Snakes can be experts are escaping so you will need to purchase or make a lid you're your tank. The lid should securely lock in place.
Ventilation of the tank is also important, if you are building your own tank, be sure that vents are included in the design.
The tank
Heating:
It is important to keep your snake warm. This can be done with the use of a heating pad. When purchasing a heating pad be sure it is the proper size for your tank and will not over heat. Heating pads should be places on one side of the vivarium (on the out side of the tank, follow the instructions the can with the pad, for proper instillation), if you are also using a heat lamp place it on the same side as the heat pad, thus creating a warm and cool side. The temperature should range from about 75ºC on one side to about 85ºC on the other, the tank temperature can be lowered a few degrees at night.
I use a small glass cutting bored I got from the dollar store, in the tank over the heating pad. Thermometers should be used in the tank, for proper readings of the temperature – one of each side- a digital thermometer is also a good investment.
NEVER USE HEAT ROCKS THESE CAN CAUSE SERIOUS HARM TO YOUR SNAKE. If you have purchased one or have one return it or pitch it out, heat rocks can be dangerous to all animals and should never be used.
Heating Pad
Cutting bored
Bedding:
There are various types of bedding that can be used with corn snakes. Aspen and Coconut fiber are the two I use. You can also use:
-printed or unprinted newspaper although this can be unsightly to the eyes, and dose not allow burrowing
-Astor turf
-paper towel , useful to monitor sick snakes.
Cedar and Pine shavings should never be used.

Aspen
Coconut fiber. This come in hard blocks which your must soften in water first, before breaking it up.
I like to use a thick layer of bedding for my snake so she can burrow.
Its is best that snakes are removed from the tank for feeding to avoid impaction
Hides:
Hides are a must have in the tank. Hides proved a place where the snake can feel safe. At least two hides should be provided, a moist hide may also be included to aid shedding.
Many things can be used for hides, such as:
-store bought; Exo Terra Snake Cave
-Half log hides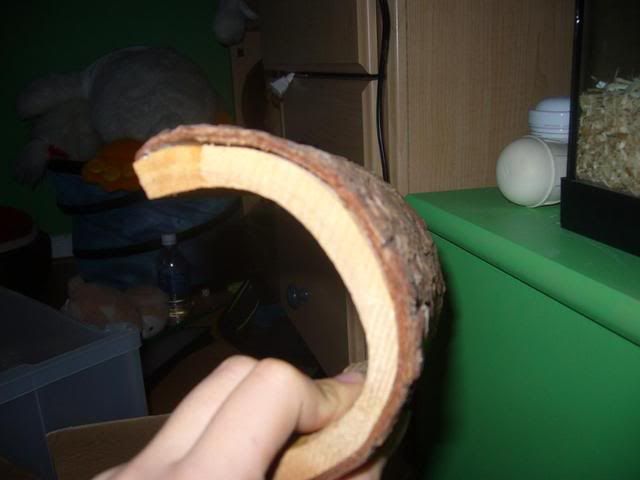 -Tree bark
Hides should be placed on both sides on the tank, as you can see in the above picture I use 3 hides the larger ones on the sides and the smaller one in the middle.

Bowls:
Water bowls must be provided with fresh water. Its is not necessary to proved lager bowls in less you snake enjoys a swim, a small bowl should do.
Décor:
Corn snakes enjoy climbing so providing climbing branches is a good idea.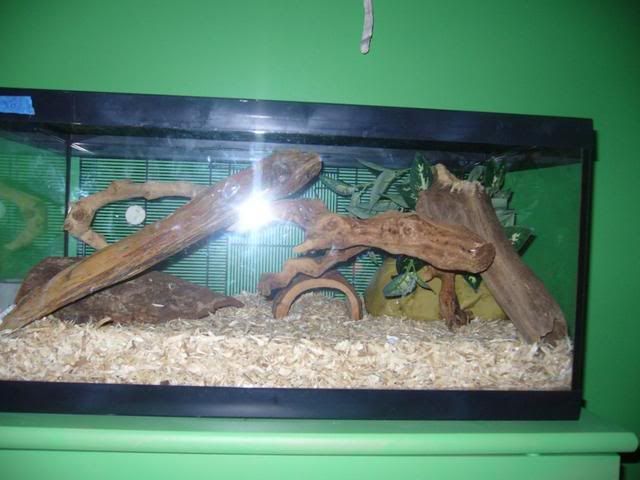 The use of plants is also recommended; plastic is the best to use and live have the possibility of bringing in bugs. Other décor that can also be used includes:
-clean rocks
-pieces of tile etc. . .
You may also purchase or make a background for the tank, but it is not necessary.
Cleaning:
Cleaning should be done at least once a month, but spot cleaning should be done often.
Spot cleaning
: any soiled bedding should be removed; using a paper towel etc . . . Remove the soiled bedding right down to the bottom of the tank and the bedding around.
Dishes:
water bowls may develop 'slime' which is way they should be cleaned often; using hot-boiling water and a scrubber scrub the dishes clean.
Decor:
plastic plants should be removed and soaked in hot water, and wiped down, very dirty or soiled plants may be thrown out if you do not wish to clean them. It is a good idea to replace plants after they have be worn.
Cleaners etc . . . should not be shared between animals and humans.
Written by Kayla. This guide is not to be reprinted or used else where without my permission.

~~~~~~~~~

Wow, I have way to much time on my hands. . . anyways Heres the new guide with more info and stuff I said I'd write , if you guys see a mistake if you could just tell me that would be great. I'm going to be posting all my snake stuff here now, except for pictures that do not fit with this, so keep checking back here if you want to read more stuff I guess. Have fun