Discussion Starter
·
#1
·
It turns out that someone on the beardie forum I'm on only lives 30 minutes away from me, so I'm beardie-sitting for her! So, Dudley's new friend is an 11 month old beardie names Sarth. Dudley just started brumating, so he is basically in a comatose state right now and is much more interested in sleeping than head bobbing Sarth. The only time he got worked up over Sarth was when I held him up to Dud's cage, cause Dud has to defend his territory LOL.


Oh, and in exchange for beardie-sitting, Sarth's mom is giving me some Dubia roaches!


So here are some pics of them!


I'll start off with Dudley:


My little fatty weighing in at 549 grams! He doesn't even look guilty, LOL.




His favorite activity: Sleeping.




The boys being wrapped up for some cuddle time! (Sarth is on the left, Dud is on the right... If you can't tell LOL) Check out the death-glare I'm receiving.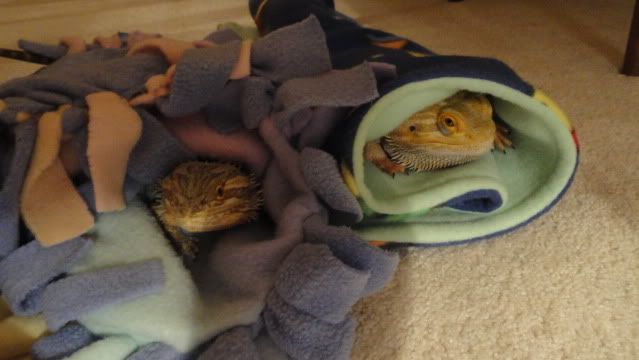 Sarth got really mad at me when I was trying to feed him his roaches! I guess I'm unworthy of touching his precious buggies.




Chillin' on top of his hut.




I wanted to do a size comparison of the two, and it looks like they are around the same length!




They seem to get along outside of their cages, but when Dudley saw Sarth from inside his cage he started black bearding and head bobbed a couple times.
I think he was realizing that he's being (temporarily) replaced with a younger non-brumating model!


"But look at this face! I'm irresistible!!"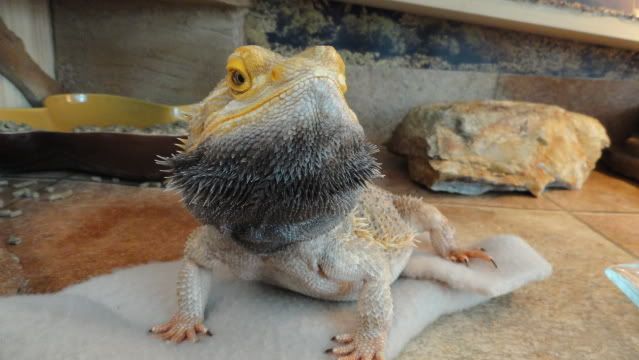 "If I give you kisses, will you keep me?!"




Sarth went to bed, and he was watching me through his window. He's so adorable! I was holding him while I was watching TV, and he snuggled up on my shoulder and tried to dig LOL. I don't want to give him back!




And finally... Dudley eating a big male dubia!! :mrgreen: You can hear it crunch in the video. Yummm.
I had been chasing the darn thing around Dud's viv for a good 5 minutes when I took this video, so I decided talking to the roach would obviously coax if from its hiding place.

I AM NORMAL.

I think dubia roaches are part ninja. They are EVIL.