Discussion Starter
·
#1
·
Dearest loving nana spoils her dog to the max. She gets him professionally groomed once a month. Well she is struggling now because her social security just got cut. On top of that, I just got some terrible news about Chewy, a friend's dog. He was recently beaten and thrown outside by some drunk guys so he will be coming to us after he is revaccinated (mom insists) and examined by a vet.
Beau is a yorkie poo and gets a cut similar to shih poos. Basic "shave" down and his ears clipped and brushed. Then his face is trimmed up all cute. He looks like the dog below haircut wise but with the body clipped shorter (but the face looks similar.)
Chewy is always shaved down so he looks like a little rat and all lol. He is a shih poo with VERY curly hair. Professionally groomed, I'm sure he'd look kind of like this.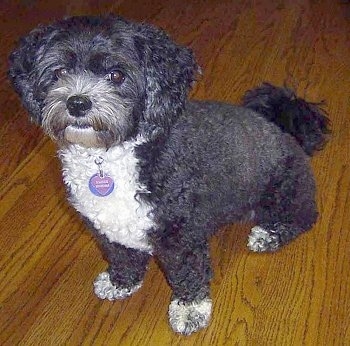 He is afraid of new people now so he won't be going to the groomer for a while.
My list of current grooming tools is
Furminator
Blunt tip scissors
Scissor style nail clippers (but might trade em for grinder)
Slicker brush
Ear Wash
And of course shampoo and conditioner
I blow dry my dogs after I towel dry. I was thinking of getting tear stain remover but not sure of any good brands. The last one I bought didn't work all that well.