Discussion Starter
·
#1
·
Took in 2 pinkie making machines on Thurs. Sept 15th. Either very young girls ("both are under a year") or girls whose growth has been stunted with the endless pregnancies and litters (until their babies were taken away to feed the family's snakes). They were kept in a tiny cage with 3 boys and when they got pregnant they would be moved to another small cage to have their pinkies, but once the pinkies were harvested, they were put back with the boys. This is their ad pic
They are booked for e-spays tomorrow and my vet is coming in on his day off to do them. Btw the boys were taken in by another woman and are also in a great home as well.
Meet the patients.
Johari ("jewel") - arrived at 206 grams, but was severely dehydrated and gained 20 grams overnight. She now weighs 262 grams. She settled in the fastest and is now approaching to give me kisses, and is starting to play when I give her a little over the head/shoulder shake that initiates play sessions in rats.
She loves pats, cheek rubs and will lie down in the open and let me stroke her.
and also likes to help me type :
and then there's little Naira ("large eyes") - she arrived at 161 grams and also gained 20 grams of water weight. She came in scary thin...and you could feel every bone under her skin. She is now 222 grams.
They both love food, even if it's held by me!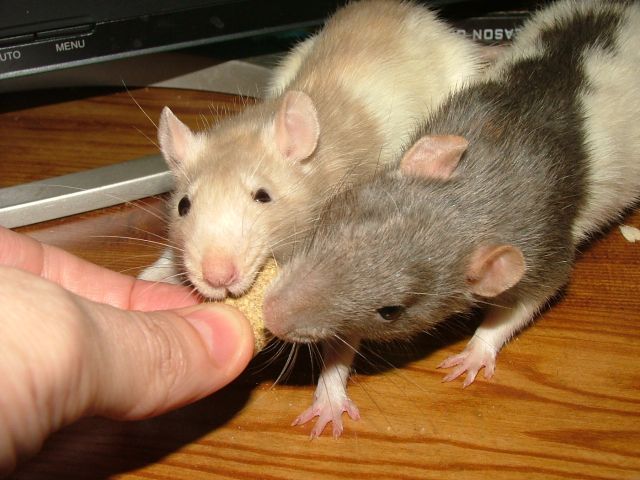 Naira will do anything for food and is allowing and even enjoying gentle cuddles now.
She also is loving their other snakebait cagemate Loki, who is gaining a lot of confidence from these 2 interacting with me, and is finally relaxing. Loki lived in a snake's tank for a long time and will bite bite bite at everything to drive it away.
So wish them luck tomorrow on their Surgical Adventure. :lol: