Discussion Starter
·
#1
·
Hope Really Needs Your Healing Vibes... :/
She was a kijiji ad that set my rescuing "spidey" senses tingling. The first pic looked like a bright eyed lean little rat...the 2nd you saw how tucked up her abdomen was and the horror of her coat. She was supposedly 2 years old and originally owned by someone's brother. Brother got bored. old rat goes up on kijiji.
We had a lot of false starts and almost pickups, but the rat formerly known as Rascal (they didn't know if it was a boy or girl) with a lot of persistence from my friend who drove hours to get her (after they cancelled on Monday and then stopped communicating with us) and found out they were contemplating keeping her because she loved their dog! When my wonderful friend first picked her up she called to let me know. And I told her she needed a new name...for a whole new life. Then 10 mins after I hung up the phone, I thought of the name Hope (I had never had a Hope, just a Faith...wonderful Faith who fought a similar but different battle and lost). When she called me back 3 hours later (I was up north at my mom's for my birthday) she told me they had thought of a name for her but weren't sure I would like it. So I mentioned that I was thinking of Hope for her, and THAT was the exact name they were discussing!!!
Little Hope is scary, scary skinny, she's 190 grams and her build is more like a 300-350 gram girl. Her skin has yellow patches, her fur is greasy and falling out in patches, there are scabs on her belly. She has a funny wound on her tail that might be ringtail, and worst of all she has pneumonia. Yesterday she was uncoordinated, and possibly dehydrated. She also wasn't able to eat on her own, but would try to lick things off of fingers, and then she would give gentle kisses. She was given baytril, doxy and metacam as per my friend's vet.
BUT Little Hope has bright eyes and really seems like she wants to fight and live. I was told I would love her once I met her, and I said I already love her for being a survivor.
Pics after she arrived last night
She does the loveliest head tip when you give her cheek rubs
This morning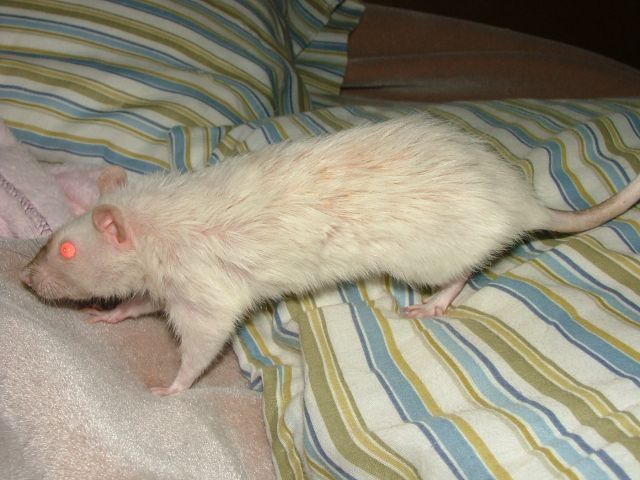 She grooms with one paw only. I have been rubbing her itchy ears and gave her a gentle bath to remove some of that crud on her back (creams they had applied to her skin) that was making her fur fall out.
Little Hope doesn't eat much, so I am going to have to hand feed her and get her to lick things off my hands today, she's not drinking much so I gave her some sub-q fluids this morning, and she may have a heart condition so I put her on a diagnostic dosing of enalapril to see if she improves. She's soo scrawny, unkempt and unwell, but she is the sweetest and most loving thing. She thanks you in the nicest way possible. :heart: