Discussion Starter
·
#1
·
Last night my mom came home with a baby rabbit that they had found in a neighbor's yard. One of the neghbors had stepped on it and I believe it has a broken leg *(
back left leg
). He had very light bleeding from his nose. This morning I checked on it and noticed it's right eye is swollen and closed up. I took him out *(very carefully) and gave him some water. I do not know whether he is old enough to eat solids. He has fur, eyes are open, and is about the size of my palm.. a little smaller actually. His ears are about as tall as the tip of my pinky.
He seems to like cuddling with my hand. He refuses to move the injured leg.
My mom refuses to call a vet or animal shelter. She basically slugged it on me to care for this animal. I am a 16 year old girl. I have no money and no way to take it there on my own. He

is

a wild
rabbit.
The rabbit's home/family is in a very dangerous location and one of them has already been run over.
What should I do?
*(please keep in mind I'm very new to this site.. I just created the account today to get help for this rabbit.)*
Here are some pictures *(
taken from my phone so it may not have turned out too well
) of the rabbit: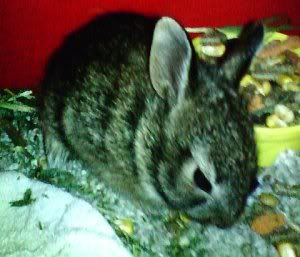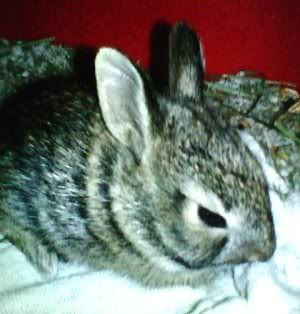 PLEASE GET BACK TO ME ON WHAT TO DO!! I DO NOT WANT TO SEE THIS ANIMAL DIE AND I CANNOT TAKE IT ANYWHERE ELSE TO GET HELP!