Discussion Starter
·
#1
·
Lilith – July 2009 to August 12, 2011 :'(
Lilith was just a wee thing when she arrived. Mo0nKist had basically shamed a petstore owner into giving the baby to her and then to me. The man put her in with his adult beige hooded boy, thinking she was a male, when she was really a female. We got her out of there because she was sick, and we wanted to stop the endless litters she might have.
Lilith was sooo tiny, and soo young…how could you imagine her having babies? Babies having babies? Yes it does happen. She must've caught on her first heat.
11 days later the little skinny baby girl was a baby balloon and I was soo worried about this wee thing giving birth, but she did well and was an amazing mother with her 8 baby boys.
Such a good momma
She even had occasional moments where she would stay still and let me pat her…never for too long, then she was off! She had a whole "My Way or the Highway" attitude going on. LOL
Her first family which included her nakie son Yoda and her black hooded son Puck
Happy cuddled up to her big son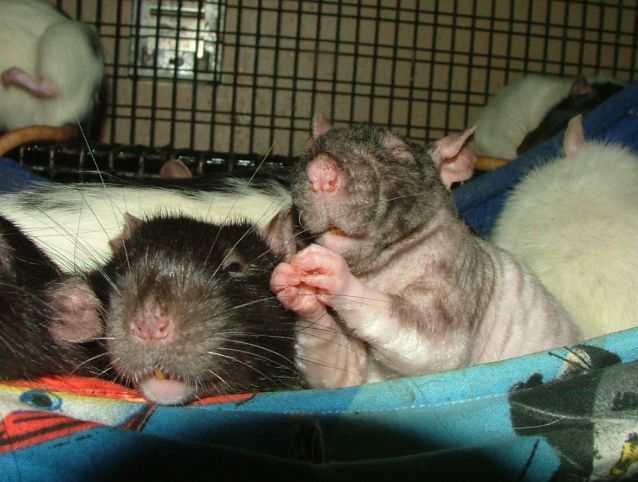 When she was sleepy, she would rest her head on my hand. I think this is where her eye troubles started.
Her 2nd family was Isabella and Hansel…a much quieter group, but she was really starting into her eye issues, and was soon to have the honour of being loved at the vet clinic but not loved when they had to remove stuff stuck under her 3rd eyelid. They would have to anesthetize her so deeply, because Lilith of the Lids of Steel would clamp down if you didn't LOL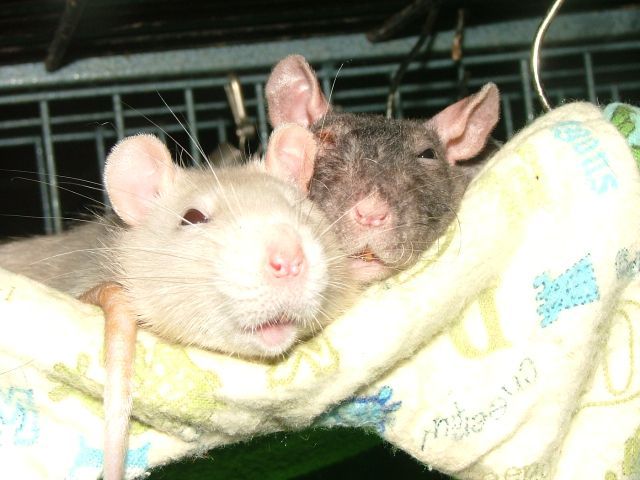 Lilith for all her opinionated ways was a very sweet girl. For the first 1.5 years of her life, she did her own thing, she didn't cuddle much, but she was a nice girl. This is from the night I had to have Isabella pts. For the first time, she crawled up into my lap, and lay there while I stroked her and cried. She stayed with me for 20 mins, and I am sure she knew I needed her. After that she did the same thing every night. She would bump my leg until I picked her up or she would climb my outstretched legs LOL
For the people who didn't know, Lilith's eye issues became very serious, and then the vet and I realized she had a mass over her eye, that we didn't think was operable. We decided to just leave it and see how she did. Within a week the eye was being compressed by the mass and I took her in to be put to sleep. She was in pain and not a happy girl
We decided she was so healthy except this awful thing that we wanted to try and she had a drastic radical surgery to remove tumor tissue that included the removal of her eye. She was sooo swollen afterwards but it didn't keep her down.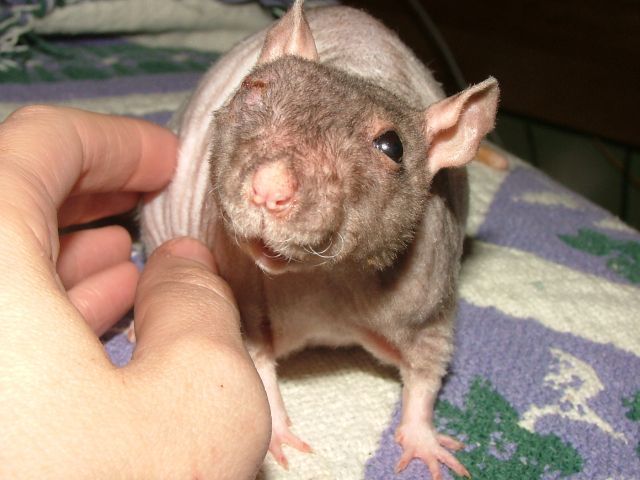 Through many ups and downs that felt a lot like a roller coaster ride (that some wonderful forum people went through with me), the tumour recurred on the side of her nose and under her eye and was causing serious issues with her breathing, and fluids coming out of her nose. Today I took her to my vets and as they were doing up Frida's intake for her surgery, my Lilith gave me the most wonderful cuddles, bruxxes and boggles then in typical Lilith fashion, said "enough, got things to do"…and proceeded to walk along the bench in the clinic's reception, and onto the shelves where the bagged foods for sale were. She explored them all thoroughly...she was my Lilith to the end.
I shall always remember her as one of 2 ways…as an older girl sprawled flat on my chest getting her pats, scritches and strokes, and both of us falling asleep that way. Or a young girl, braced and ready to face the world and discover all the wonderful things in it. We shall all miss her.