Discussion Starter
•
#1
•
I was going to wait another week before posting this, but I just had to share my news now.
We put in applications to adopt a rescue dog awhile ago and we got a call about a week and a half ago. Helen is approximately 3-4 years old and was picked up from a shelter about a year ago by the Bull Terrier rescue group. Then she was adopted out to a man last November. He returned her to rescue due to a terminal illness, plus his son and 4 grandkids moved in with him and the son's dog kept beating up poor little Helen. The lady that was fostering her said the man told her that she was showing signs of OCD, that she would sit and stare in a corner then act like she couldn't find her way out. Plus she was scared of slippery, shiny floors. We decided we could handle her OCD and drove down to see her. Mirra and Sydnee went with us to make sure they got along. Scarlette has horrible car sickness and gets anxious in the vehicle so the lady said she could stay home.
The introductions went well, everyone got along great. So far no sign of the OCD and Helen is not at all afraid of shiny floors. Our one and only issue with her is that she thinks she's the couch commando. If she's on the couch, she doesn't want any of the other dogs near her. She's perfectly fine when she's on the floor. I tried to discuss this with the foster woman, who is also an obedience trainer, but she hasn't returned my email.
We did contact another trainer and she said to keep Helen isolated from the living room until she learns her place in the pack. Also she is not allowed to be on the couch until she learns her role in the family. It's really hard to not scoop her up and put her on the couch with us, she's so darn cute! She doesn't jump up on her own. She acts as though she's never been allowed on furniture and hasn't quite figured out how to get up on her own. But, if that's what the trainer suggests, then that's what we'll do!
Without further ado..here's Helen....BTW, that's what her name has been the past year and she responds to it, so we decided to keep it the same. :lol:
Pics the rescue sent us....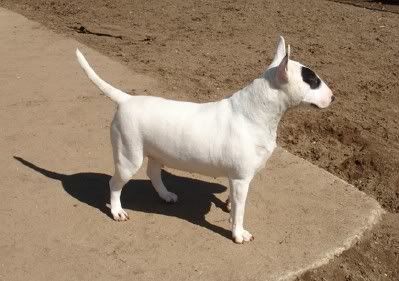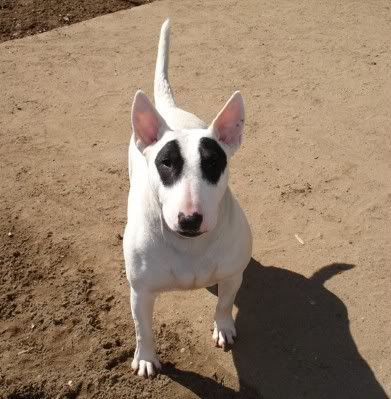 Relaxing on the couch (BEFORE she decided to become the couch commando!
)