LITTLE INFORMATION;;
Jimmy is a four year old 17hh bay SEMI off the track thoroughred gelding who never made it to the track cause he had a injury on his right front leg but he has been vet checked, the vet donated me a free vet check thank goodness. Vet gave him 100% healthy and sound. But the guy that was giving him away had been given this horse two years ago as a two year old. Well the guy owns QH's so he didn't know that TB's need grain and hay to live xD *rolls eyes* So he just threw him in the pasture with his other QH's. Now I don't know WHAT made the guy give him away but either someone made him give him away or the guy finnally realized that this horse needed grain and hay to live so he just gave him away or what idk. Now the second my trainer looked at him and got him settled in a stall she called me. He was mine as of September 19th, 2008. I am one happy girl lol.
This is the second time riding Jimmy. Okay first update with riding him Tuesday October 7, 2008 which was first time riding him. Okay Christine(trainer) held a lead rope while I got on so she could stop him from scooting over like race horses do. Well the ride went great we did 15 minutes walk/trot lots of BIG circles and lots of change of direction so we can teach him to steer. And on one change of direction he came up with his front legs a little towards the end of the workout. This horse does not steer lol. Christine said he is a really pretty mover and would look even more fabulous with front shoes.
Okay now leading up to today. This time I led him out to the arena with the reins. He did much better being saddled. And Christine made me get on by myself without her holding him. xD Well he moved forward and sideways a tiny bit but then he was good. Christine's feed truck came(we have Foxwood Farm Feed Store too now xD) and she was busy talking to him. Well while she was talking to him I kept walking him. She went to go up to the house to get a check and she told me start troting. Well I did big circles and lots of change of direction and he did GREAT. No bucks, rears, or anything and only gave me trouble with big circles a couple times. Then she gets done with feed store man and the guy leaves and she comes back in the ring and here I am walking him cause I am 'done with him for today' and she tells me to start troting again. EEKK I felt something bad was gonna happen cause he was already breaking to a walk and giving me trouble to get back into a trot. Well at almost the end of the workout he bucked a small buck and me and my dumb self pulled his face up which was asking him to stop and stay still. Well he got what he wanted. So christine told me not to do that again or else he will learn that the harder he bucks then he gets to stop so I am just teaching him to buck. So I can either keep kicking and hold on during the bucks or learn to pull his face up and eat dirt. xD Thats how she put it. I think I will keep kicking lol.
PICTURES;;
No saying "you shouldnt be riding him" or else I will come through the computer and yell at you xD lol just joking. He has gotten SO much more weight on him he doesn't look so terrible now and his normal hair is coming in oh he is gonna be a beautiful jaw dropping bay.
these was right as I myself decided to stop before he did something bad
ill have to get a video of him troting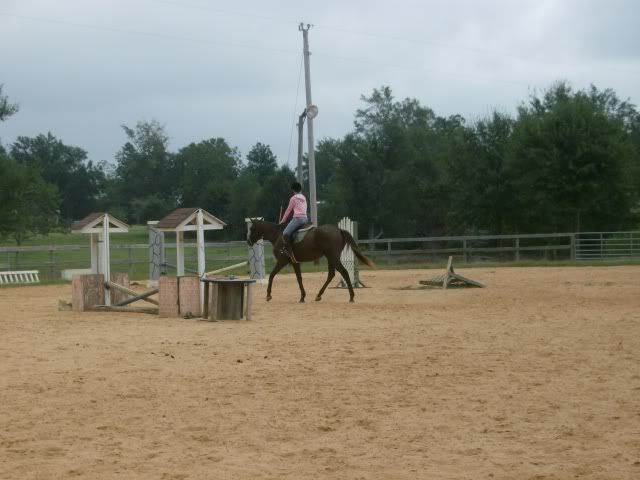 I have never seen him trot but people that watch are saying he is a real pretty and nice mover.
coming home, he speeds up on this line lol but I slow him down to let him know 'HEY I am picking the speed not you'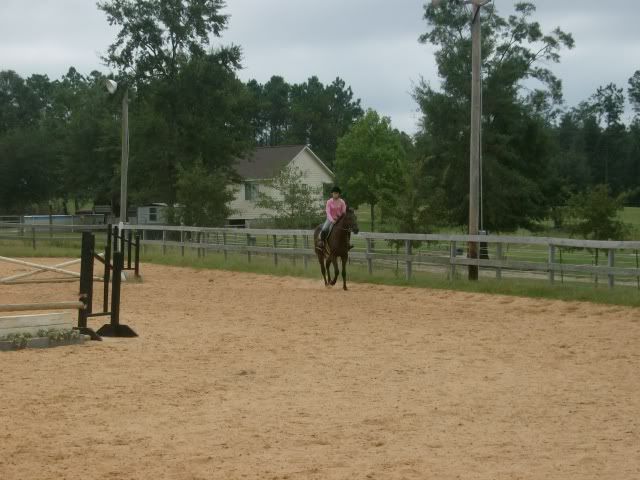 making sure he doesnt stop by Whit(sister's hubby/camera man xD)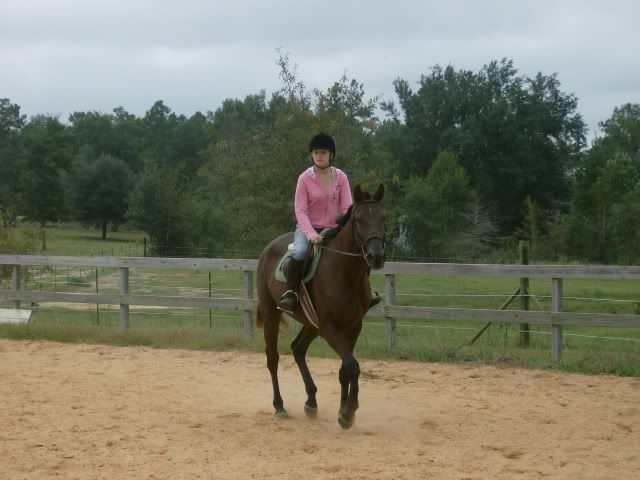 walking him out.. or so I thought lol before trainer came back out to the ring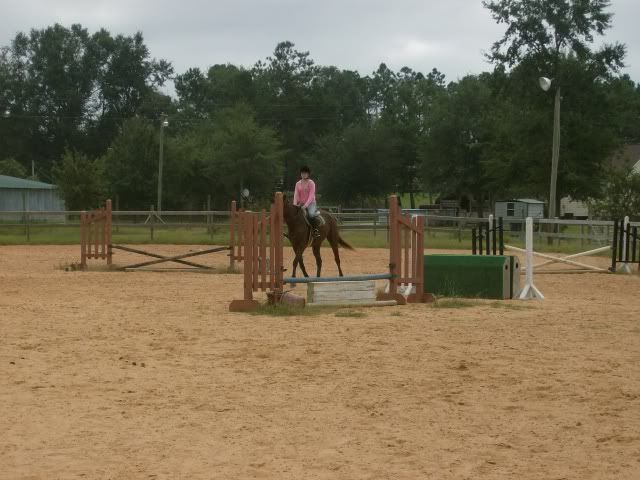 he is always chewing on the bit and man oh man he grinds his teeth lol
WHATAGOODBOY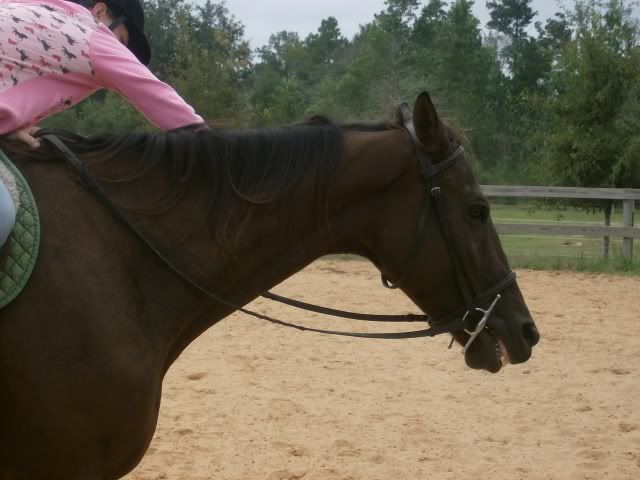 SMILE
whew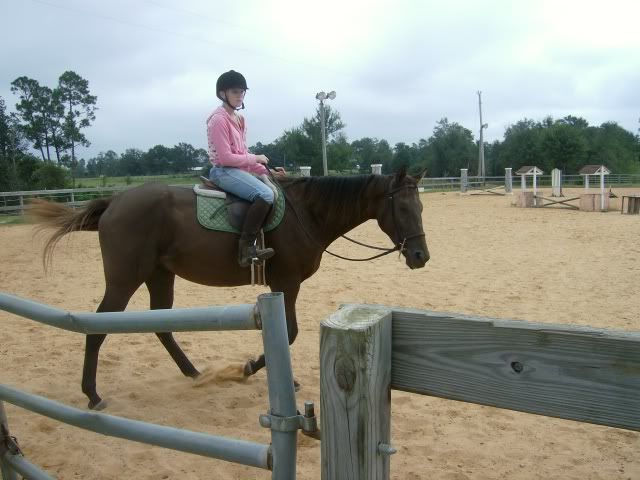 oh and for comparrison here is pictures from I think September 28th, 2008 but im not 100% sure it was either the 28th or further back but I am pretty sure it was the 28th lol.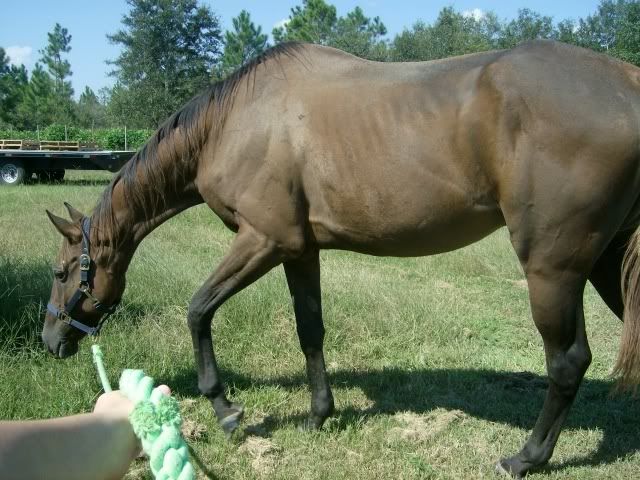 and these are from September 24th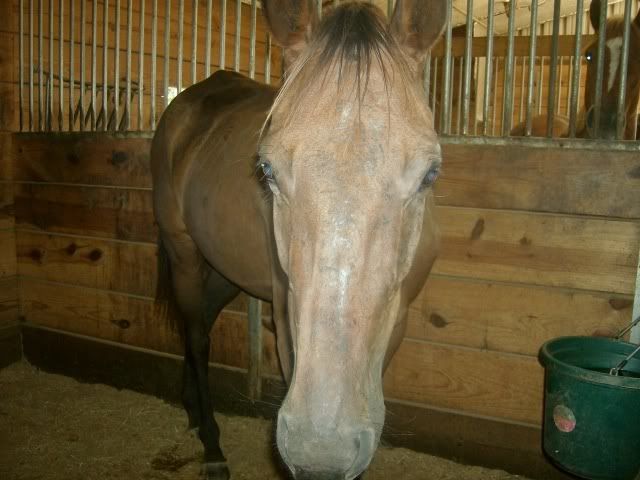 his coat is getting so much better and baying out more and he has gotten weight on thank goodness. Sorry for so many pictures. xD