Discussion Starter
·
#1
·
Its been awhile since I've posted here, and a lot has gone on since then! Back when I first joined I had one horse, and was looking at buying a house preferably one where I could house my horse. Fast forward a year later (today) I have my house, my horse is at my house, and he has a buddy.
My horse, Salty, is an Arabian gelding. These were taken when I first moved him to my new home. He has a pipe corral, half covered, in a larger "run". Basically the back half of my property is the "horse yard".
This is Salty's buddy, Jalen. Jalen is an unregistered Quarter Horse Gelding, about 12 years old. He was trained and shown in Mexican rodeos. The scars you may see (including the two saddle sores on his back) were acquired over his career is a Mexican rodeo horse, and at one point he injured his knee which ended his career. He was brought back to California and left at pasture for months before I bought him. He now lives happily as a "pasture puff" most of the time, with light rides now and then. His knee hasn't bothered him, but I have him on joint supplements to help keep it in as good shape as I can. These photos were taken the day after Jalen moved in, the FIRST time the boys were let out together. They took to each other immediately.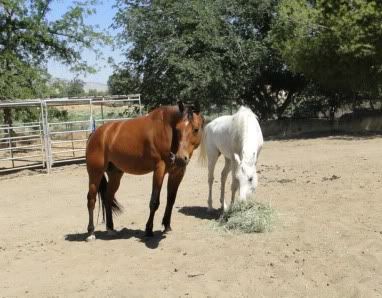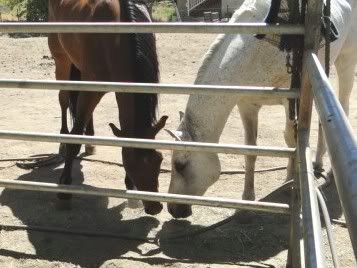 And a few other photos of the boys.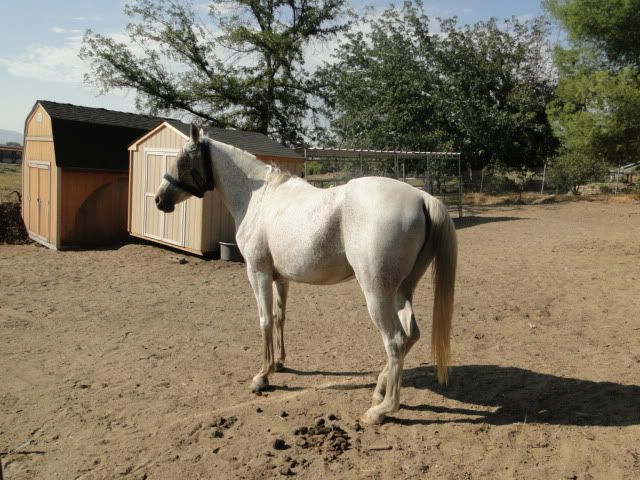 Looking for hand outs from the horse shed:
View of the horse yard from the house:
And for fun, this is their brand new trailer! Its a two horse straight load with side unload ramp. Has two vents and fans in the horse area, as well as lights. Adjustable butt and breast bars, fully padded stall area, cargo hooks, hay rack, tack/dressing room, and a 30 gallon water tank.