So here's the lowdown, pardners.
About a year ago one of my coworkers (now ex-coworker) offered another now ex-coworker her fish tank. Said coworker is terrified of dirty fish water, dead fish and is not a good pet owner anyways (wants to breed her dog, treats her like a baby etc.). I offered to take the tank off her hands but she was adamant and I subsided.
So a couple days ago she came into my workplace and said "Do you want a fish tank?" Now, from what I gathered this tank is a ten gallon with tropical freshwater and coldwater in the same tank, was filthy, and overstocked. Fortunately, me being a pack rat, I hadn't thrown away any of my ten-years fishkeeping stuff so I said "Sure".
Aaaand yesterday she dropped them off. I was appalled. The tank they came with had no lid and judging from the condition of the filter and minimal water hadn't been cleaned in a loooong time (no surprises since her excuse for getting rid of them was "they're too much work"). The actual fish were being stored in a large critter keeper apparently for two days! The water was filthy and all the fish were gasping and leaping to the top.
So I pulled out all my fish stuff along with a ten and twenty gallon and set to work. I basically had to cross my fingers and pray no one died as I moved them to their new homes. No time to cycle, using well water without testing... but I couldn't leave them in that critter keeper. I waited for the tanks to get the right temperature and placed them carefully inside.
The three goldfish were in shock and took turns laying on the bottom, playing dead. Eventually, they perked up (and discovered the food I had dribbled over the top) and here they are in all their fishy glory: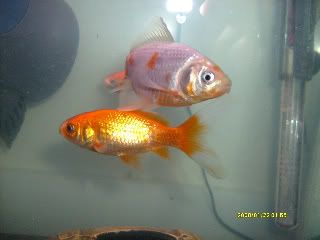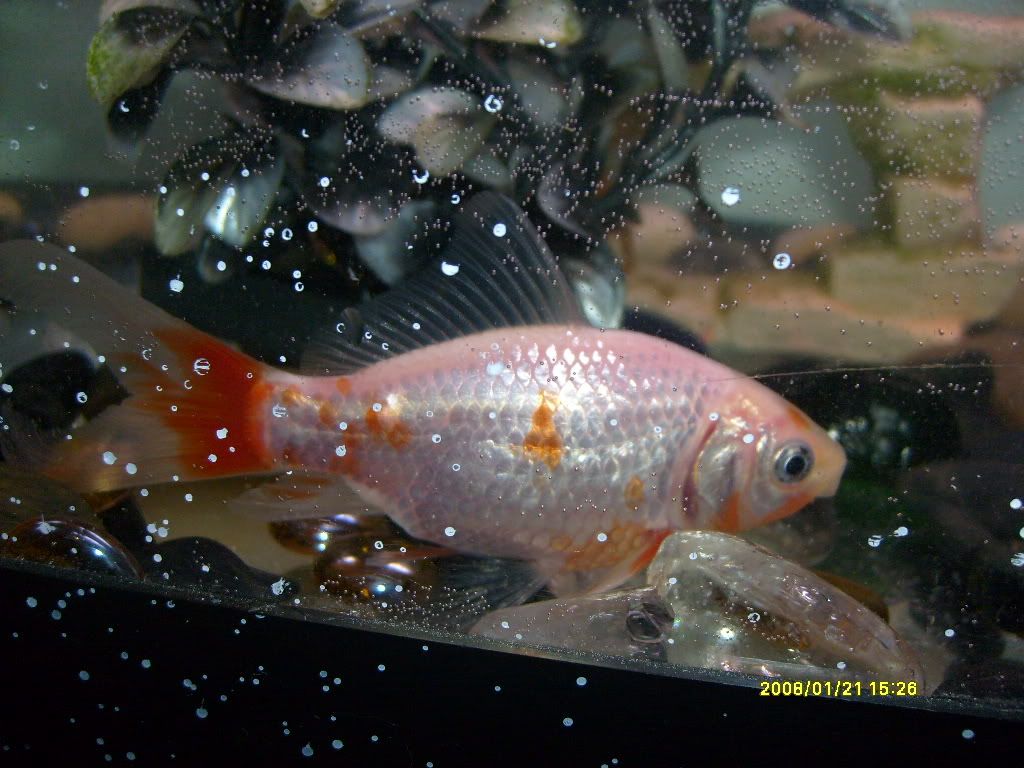 Ignore those white speckles on the tank. When we moved into our second house it was flicked with paint a bit.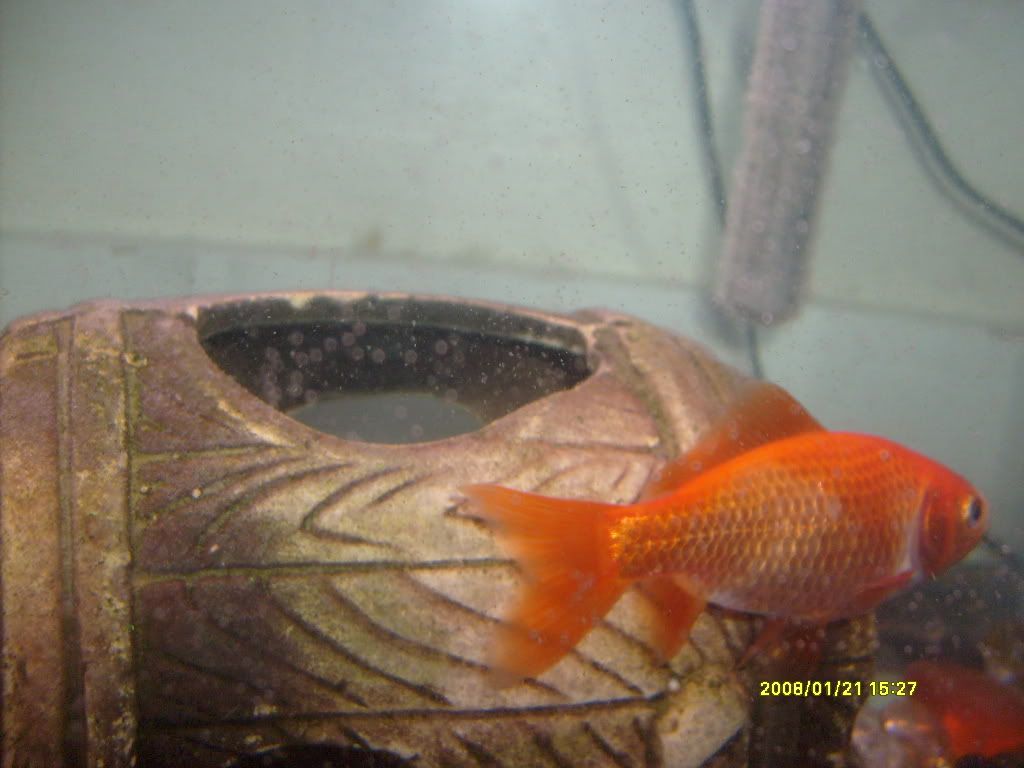 I've never had goldfish before so this is going to be an interesting adventure.... I just wish I had a bigger tank for them, like a fifty...
The tropical fish are a little more vague on what they are. The bottom feeder I'm pretty positive is a Cory (and if he ever gets out of the corner I can show you guys) and the small fish is probably a danio maybe a femme fatale guppy. I kept danios for ten years or so and the tiny fish looks and acts remarkably like a danio... in the same way that you can't get a bloody picture of them so here's a tank picture instead:
I've never seen a danio so small and colorless (mine all grew exponentially) and I'm pretty sure the goldfish food they were fed was being eaten by everyone else (and probably not that good for him). The cory was shocked from the move and played dead for a while but the alleged-danio just went "whatever" and started swimming around excitedly (another danio trait: immortality). Since they're in a ten gallon I'll be buying a couple more so they can school (and not bully the cory) and be done with it. Hard enough to maintain a ten :/
And those are my new fishies! Anyone got any names they wanna suggest?