Discussion Starter
·
#1
·
My vet was so amazed at how bonded these 2 rats were. They were devastated to have to put them to sleep. Especially tiny bright eyed Jill. They watched Jill lie on top of Waco, gently cuddling and licking him til the end. The vet tech teared up, and my own vet couldn't watch. They even took Jill up front while Waco was sedated so she wouldn't be upset if he squeaked, then they brought her back, sedated her and then let them go together. :heart:
Little did the clinic staff know, that they had only met 6 days prior and that Waco had been with me a lot longer and he was mostly unhandleable due to aggression until about 2 months ago. When he and Jill met it was instant love. I think they needed each other. He for her gentle kindness, and she for his needing her for support and comfort.
Waco was an unfortunate RTR hoodie (Rats Town Rattery, a most delightful BYB that dumped all their rats in one night). I regretted not getting him neutered when he was younger, but the most urgent cases came first and he was living with others at this point.
Waco the hormonal puffball after he returned from his foster home. He was supposed to be neutered while at my fosters but due to some mixup it didn't happen.
Waco 3 months ago…a typical face of his
September 20th - Look at how bright and happy those eyes are now!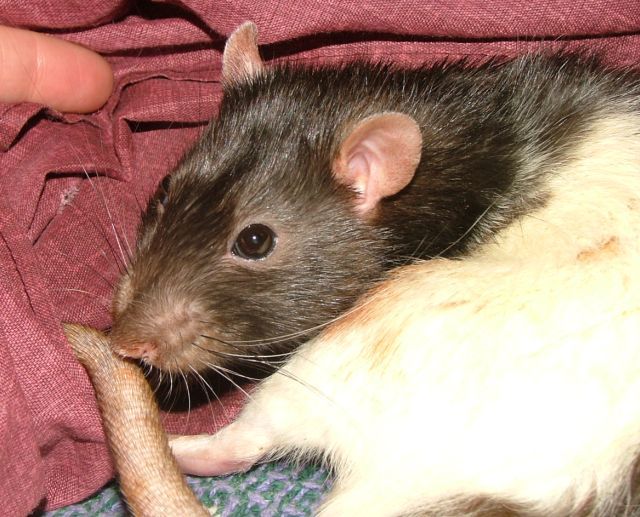 Jill arrived on February 1st of this year, sick, and terribly skinny because Chelle and Graham were going away and needed someone to watch over her, her sister and mom. Chelle couldn't get her to respond to medications anymore, and had booked her euthanasia day for the day she arrived. I asked if I could try to save her and got the g-ahead. I started the wee thing on oral dex, baytril and doxy…and it took a little time, but her breathing improved, her fur smoothed out, and she even gained weight! I was thrilled!
After this I discovered this little girl was feisty, of her own mind but was a very very gentle soul with needy rats. She was my nursemaid girl.
She took my sickly beloved Hope under her capable wing
She took care of blind Eli, another beloved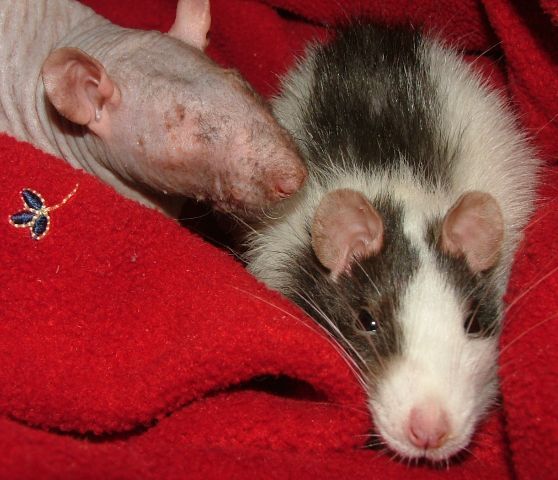 Took care of old curmudgeonly Hansel
Snuggled with Hansel and Hope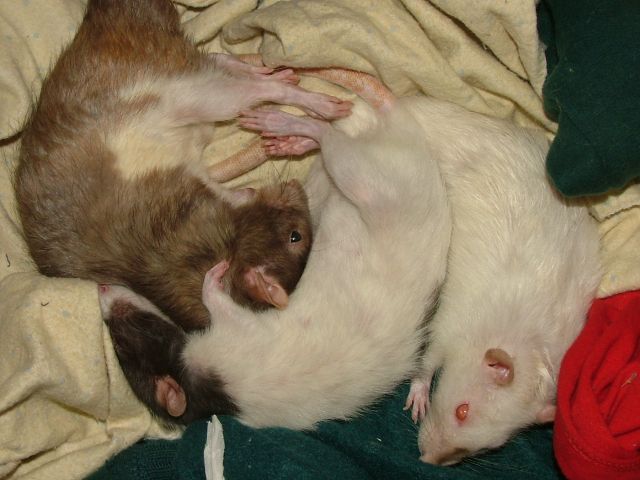 Jill had always had terrible respiratory issues that had to be managed carefully, and then she developed the symptoms of PT. I decided against trying to prolong her life with steroid treatment but kept her comfortable on the steroid over the weekend.
These last pictures are all from this weekend.
And finally she meets Waco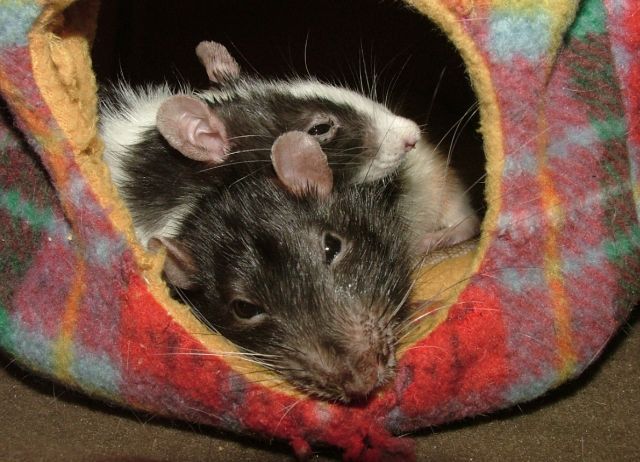 Waco had a fast developing mass on his jaw that literally showed up distinctly this weekend. I decided he and Jill would need to go in on Monday morning 
This boy used to try to shred my flesh at any opportunity but here even though his jaw/mouth was so swollen, he delicately licked me. I think it was in thanks.
The weekend for Jill and Waco was spent cuddling up to me, or cuddling up to each other…with breaks for drink and food. I think they really enjoyed their last weekend.
My bright-eyed girl. Sooo hard to leave you today, but I am sure she is meeting up with so many of her old friends, and being my Jill, is introducing Waco to all of them too.